Envi-India was established in June, 2014 as a start-up in Chennai. We have been constantly engaging with the market and evolving alongside its transformation over the years.
We believe that quality and craftsmanship are the key criteria to sustain in a market. Envi India strives to dispel the idea that an aesthetic space is expensive. We consciously raise awareness on the same by leading by example!
We Work. We Prove. We Lead by example.
We believe that every space that we occupy on this Mother Earth needs to be cherished with elegance and filled with a sense of health and well being. 
The psychology of a space has the power to sculpt your thinking in unimaginable ways! Your physical surroundings are a reflection of your mental state. Take a look around you and within yourself. There are analogies to be found. By taking you on a journey through our world of design, textures and colours, we hope to integrate and bridge your needs with our enthusiasm for the greater good.
Invest in us so that we can work together to improve our country's infrastructure and environment. Envi-India cannot accomplish this without you!
Our Vision is to DESIGN, CONSULT AND CONSTRUCT AS MANY ELEGANT, HEALTHY AND HIGH PERFORMING BUILDINGS AND SPACES to contribute to changing the physical and psychological urban character of our country.
To be ACCESSIBLE and AFFORDABLE to all and create buildings that can consciously promote health & wellness of occupants and energy efficiency in buildings through our TRANSPARENT consulting approach.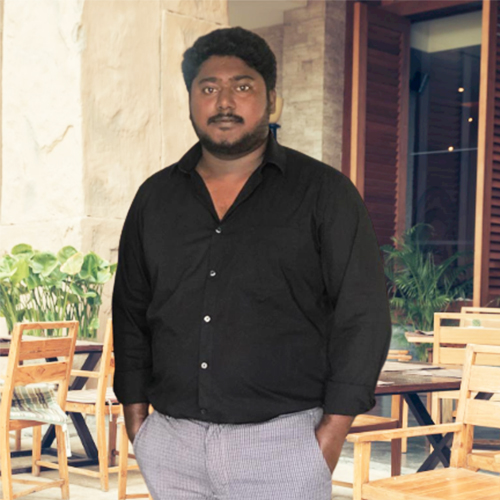 Principal Architect & Interior Designer
Viyaz is an Architect by graduation and did his B.Arch from School of Architecture AMACE, Kanchipuram. He is an Interior designer and passionate about working with wood. He further continued his passion for interior designing through PGDID from iCAT. He has been practicing for the last 8 years and has successfully executed 25+ projects across South India. He is a passionate traveler who enjoys music, sketching, and painting. He has an impeccable sense of interiors and colors. He is fascinated by textures, murals, well designed and daylit interiors and contributes towards providing the same to his clients. He goes by the motto "What catches the eye at the first glimpse always stays!"
Venkat is an Engineer by graduation from AMACE, Kanchipuram and also pursued his ME in Structural Engineering. After working his early years as an Engineer, he discovered his flair for creating beautiful and elegant interiors. He loves to explore colors and textures and has an impressive imaginary color palette that always provides elegant interiors. He is an enthusiastic traveler and loves to play chess. He goes by the motto, "If you cannot see it in your mind first, you cannot execute it."
Shruthi is a Landscape Architect with 5+ years of experience, including 3 years as a landscape architect and 2 years as an Associate Professor from CAT School of Architecture, Trivandrum. She did her B.Arch from DY Patil COA, Navi Mumbai, and her M.Arch Landscape Architecture from CEPT University, Gujarat. Her versatile experience in teaching, architecture, and landscape architecture has proved to be a competitive criterion. Her passion for creating green spaces and landscapes is clubbed with her passion as an artist in creating colorful and elegant home décor elements, which she does as a hobby. She goes by the motto, "Buildings add value to landscapes, not the other way around."
Architect & Project Manager
Deepika is an Architect by graduation and did her B.Arch from School of Architecture MCE, Chennai. She is well-known for her highly functional design layout and goes by the motto "Every square feet costs". She is passionate about designing spaces and believes that an aesthetic sense exists in every component around us. She has 8 years of experience overall working in 20+ projects and is a Registered Architect with the Greater Chennai Corporation (GCC). Her transparent working nature makes her an easy-to-work-with Architect.
Architect & Interior Designer
Aruljyothi is an Architect by graduation from the School of Architecture, MCE Chennai.  She is widely appreciated for her out-of-the-box thinking and conceptual design ideas. She goes by the motto "Break the ordinary if you want to be remembered". She is passionate about gardening, sketching, painting and creating 3D visualizations. She is known for her perfection in work and stops only when she has achieved the best version of herself.
Consultant- Sustainable buildings
Kaushik Jayaveeran is an M.tech graduate from CEPT University in Building Energy Performance with a background in architecture. He is an accredited LEED AP, WELL AP, IGBC AP, and GRIHA CP. His areas of expertise include building physics, building energy simulation and analysis, Daylight design, and comfort analysis. He has 3 years of work experience in the field handling varied types of projects and certifications. He goes by the motto- "The only crisis we are suffering and will continue to suffer is our ignorance towards the environment and climate change"
Architect & Site supervision
Building castles in the sky since the age of 10, Dhruva has been building them on the ground since 2014 after he graduated from B.Arch SOA, MCE. It has been quite the journey since, with a slew of wide ranging projects under his belt, from contemporary luxury wedding halls to sustainable low cost mud houses, upcycled bottle lamps to bespoke modular kitchens – he's been there, designed that! He believes in meditative and interactive design that speaks to its users while having a positive impact on the environment. His motto is "Dhruva in progress!"